Salem Pregnancy thrives because of volunteers like Michael and Summer Carmichael.  The ministry functions at its highest level when volunteers come alongside staff to equally fulfill a greater mission.
After retiring in 2016, Michael has stayed busy serving many people and ministries. His passion for specifically serving pregnancy centers stems from childhood.  His parents raised him to always believe "life is life." As an adult, he has never wavered from valuing the lives of the unborn and all children.
Michael and his daughter, Summer, moved into Winston just over a year ago.  Previously, Michael had served in a pregnancy center and was determined to find another center near his new home.  With a simple search, he quickly found Salem Pregnancy.  The pair quickly joined the SPCC team and have become household names. Michael's goal in serving as a volunteer has always been "to keep the paid staff doing their job."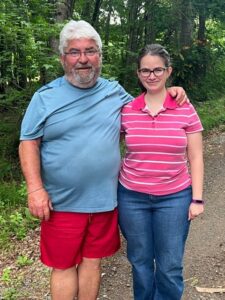 He and Summer live up to this motto every week by taking on multiple tasks and responsibilities. Michael has specifically been trusted to lead in multiple areas such as baby bottle processing and important bulk mail deliveries. While they have a consistent schedule, both have gone out of their way to show up when help is needed.
In SPCC's new center, Michael and Summer are excited to have been a part of the big move directly across the street from Planned Parenthood. They realize the importance of their roles because of the greater opportunities to reach more women and families in this new location. Salem Pregnancy's staff is incredibly grateful for Michael and Summer's dedication to this ministry.